On-camera ORTF stereo microphone – the "aurochs*"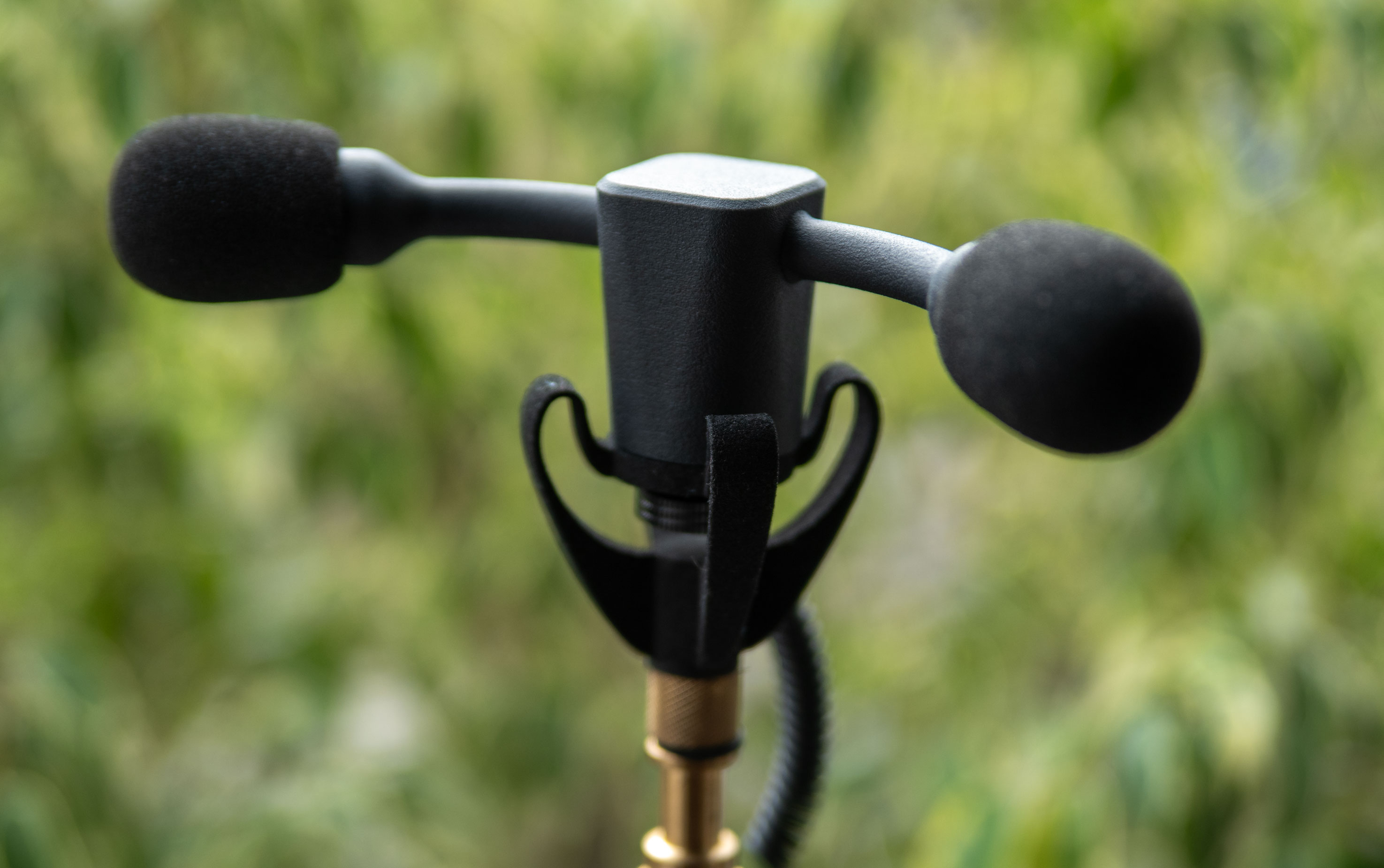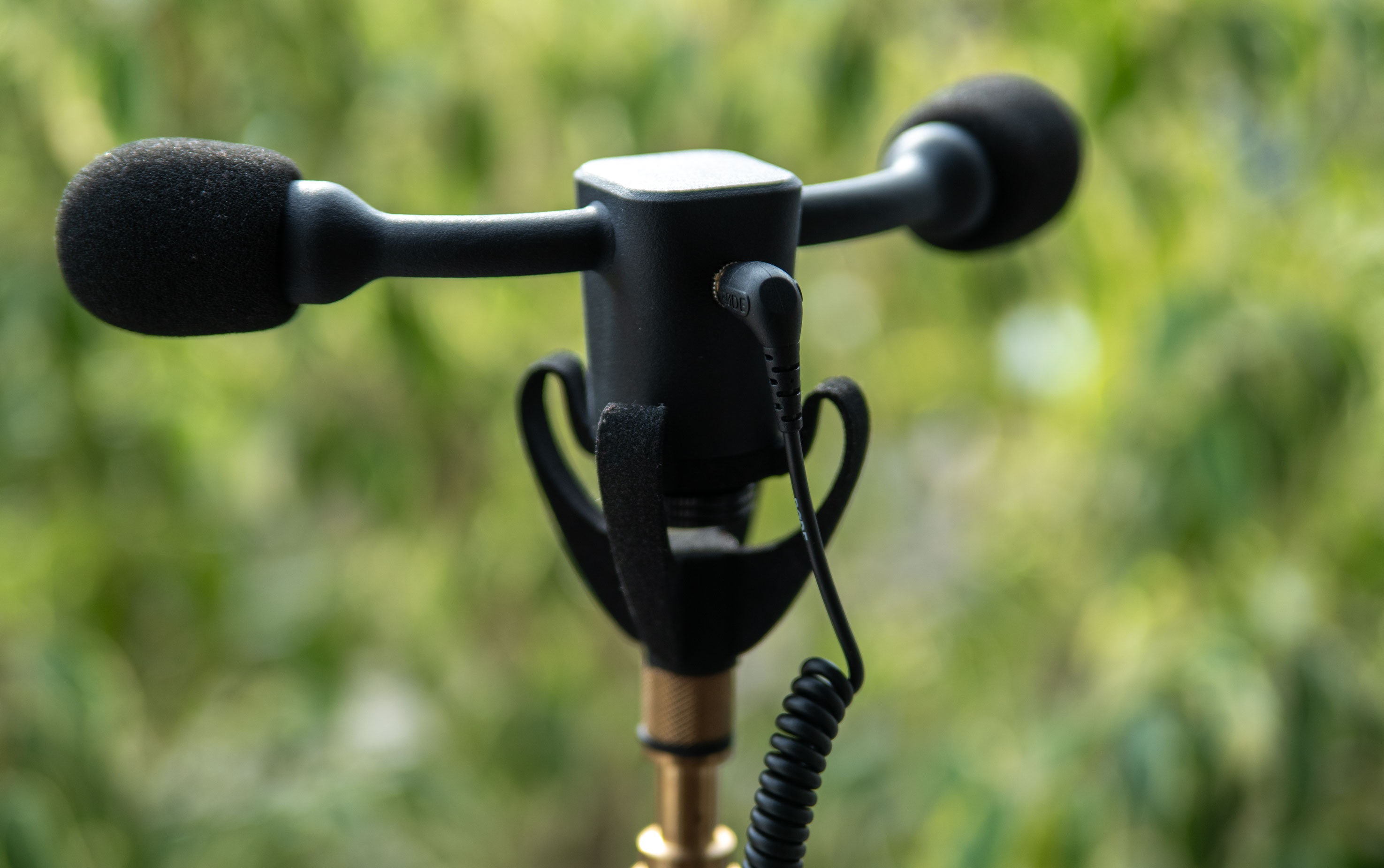 What can you do with this microphone?
You get new options to be creative in your sound recording for video. Sound is no more static, centered and mono (shotgun mic) but is reflecting the whole scene in audio which you are actually filming.
This microphone plus the whole set is a new option for DSLR video, especially for documentary indoor and outdoor. But you can attach it to any sound recording device providing PIP (plugin power) — and with some accessories to XLR inputs with phantom power. You could use it even wireless with a splitter cable and two transmitters.
But mainly it is designed to be an on-camera stereo microphone. Being an ORTF-style stereo microphone, it embraces the surrounding sounds and records an immersive soundscape of the environment. While listening, you can locate moving sound sources in the stereo field from left to right and also a little from behind. It is sort of a counterpart to shotgun microphones, which are designed to narrow focus and exclude as much of the environment as possible.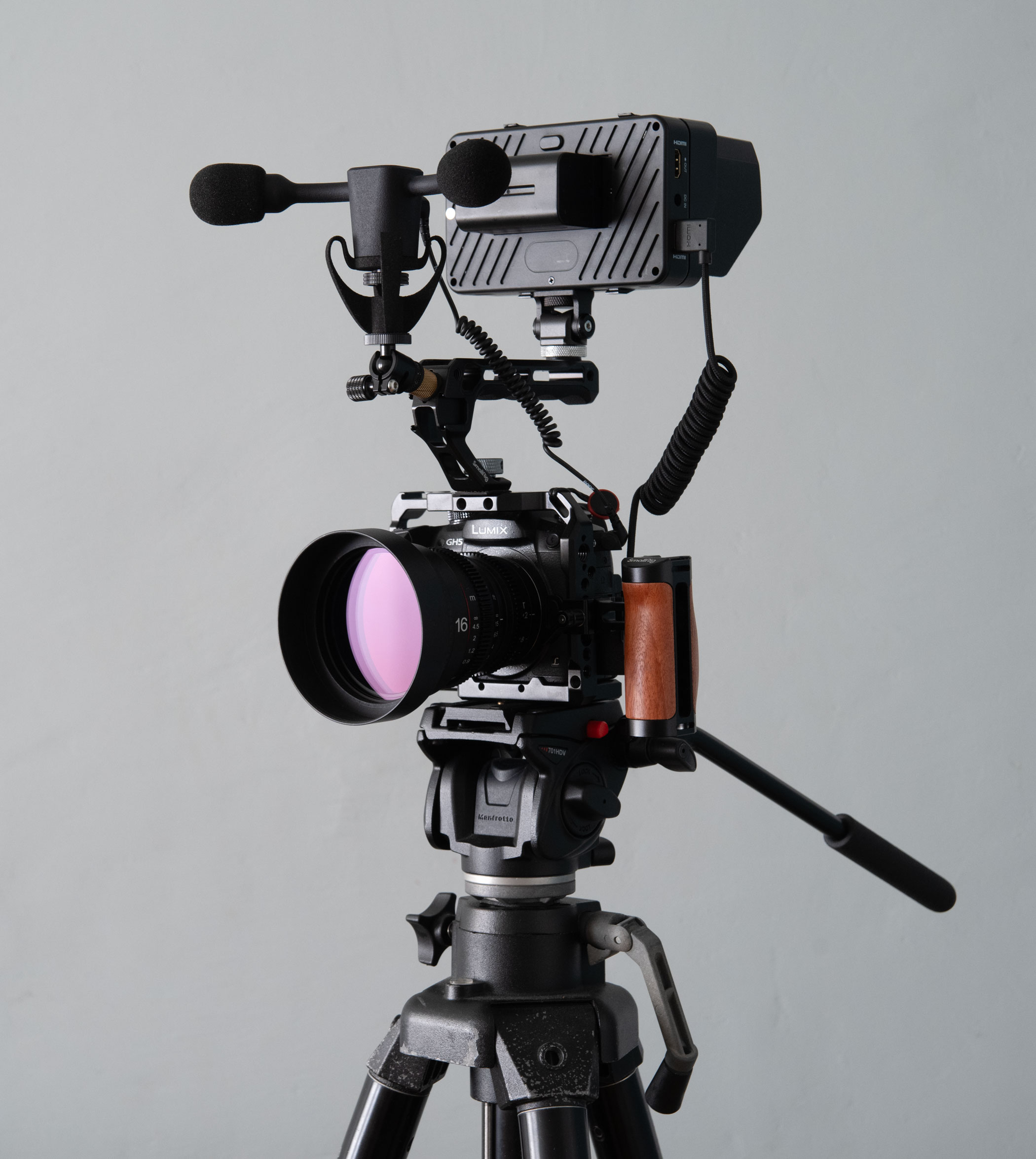 Size and weight
| | |
| --- | --- |
| Size ORTF microphone: | 59 mm x 179 mm x 45 mm |
| Weight ORTF microphone: | 49 g |
| Size shock mount: | 60 mm x 60 mm x 49 mm |
| Weight shock mount: | 27 g |
Specifications (capsule)
| | |
| --- | --- |
| Directional characteristic: | Uni-directional (cardioid) |
| Sensitivity: | -31 dB ± 3 dB at 1 kHz |
| Impedance: | 0.6 kΩ ± 30 % at 1 kHz |
| Signal-to-noise ratio (SNR): | 78 dB at 1 kHz |
| Operating voltage: | 5 V |
| Current consumption: | 600 μA max |
| Max input sound pressure level (SPL): | 125 dB |
The construction of the ORTF stereo mic
Choose the best but keep it simple.
The ORTF-microphone nicknamed "aurochs" hosts the latest cardioid capsules by Primo Microphones, Japan. Their new generation of capsules provide better RF-shielding than before. They are electret capsules, therefore you will need plugin power (PIP) to make the mic work. Almost all DSLR mic inputs do provide plugin power. Please check the manual and specifications of your camera. The two capsules are matched for equal sensitivity with a maximum difference of 0.3 dB (mostly less). The mic is passive, no extra batteries are required. There are no fancy electronics, just some resistors and a high quality TRS socket.
The housing and shock mount are 3D-printed with HP Multi Jet Fusion. The body is made from sturdy Nylon PA12 with a wall thickness of at least 2 mm, whereas the ground plate and the shock mount are printed in rubber-like and almost unbreakable Ultrasint® TPU01 and provide good shock and sound absorption.
The TRS socket is made by Lumberg Connect, internal cables are made by Mogami, resistors by PRP Audio.
All parts are carefully chosen or designed to be reliable, durable and repairable. If a capsule or socket should fail they can be replaced easily. For protection of the capsules the foam pop filters should stay attached anytime.
How does it sound?
Please use good headphones when listening to the samples.
The sensitivity of this mic ist well suited to record sound in common environments. You might have trouble if you try to record very loud sound sources, e. g. a heavy metal concert or machines in an industrial hall. In these cases the mic might distort.
In my opinion the overall sound is decent and very open. It shows fine details and the frequency response is very flat for a cardioid electret capsule. The frequency curve shows a slight bass roll-off by 6 dB from 400 Hz down to 80 Hz. The noise floor is acceptably low for most situations. When you record very quiet scenes you might hear some hiss. If self-noise is too much for you: The recorded tracks react very well on de-noising in post production. In a test I could reduce the noise floor by 9 dB in Izotope RX 10 without getting audible artifacts.
A bigger issue than self-noise is the fact that most DSLR cameras themselves make sounds which the mic will pick up. Depending on the model there are fans and an IBIS is not silent either. I don't use autofocus, so that potential source of noise isn't an issue for me. You can try to either shut off the source of noise (focus manually, shut down IBIS) or you can try to increase the distance to the mic in your rig. If your camera model is very noisy and not controllable, maybe this mic isn't the best solution for you to be on the camera.
Generally the mic preamps of DSLR cameras are not the best in the world. By the time they seem to become better though. To assess the full potential of the ORTF mic, some recorder like the Zoom F6 is the way to go.
What about radio-frequency interference? In my experience you have to be very close to a strong sender to hear RF noise. My iPhone directly at the capsules didn't produce any noise. Very close to my router (less than 0.5 m) some noises were audible.
What's in the set?
I put a lot of effort in figuring out how to make the set flexible, convenient to use and most important: silent. When you record sound on-camera the whole setup including the operator should be as quiet as possible. How can you achieve that?
My solution: Excessive use of rubber washers. I didn't find a manufacturer with all the measures I wanted, so I decided to punch them out by hand from industry quality rubber sheets. In my tests I found that if I use a thickness of 6 mm all rubber washers together, I get the best relation between robustness of the mount and damping.
Included in the set you find mounting options for every standard connector and some extra washers for replacement or to make the rest of your rig silent. There are connectors and extensions for 1/4", 3/8" (which includes ARRI-Locating Pins) a cold shoe adapter and a mini ballhead. Without camera cage you can mount the mic to the hot shoe. If you use a cage you can mount it where ever it suits you best.
The only TRS cable with angled male jacks (and I tried a few) which fitted well on every socket is Rode SC2. Therefore I include it, too. Unfortunately many camera sockets (including my GH5) tend to make a very loose connection. This Rode TRS cable worked fine everywhere.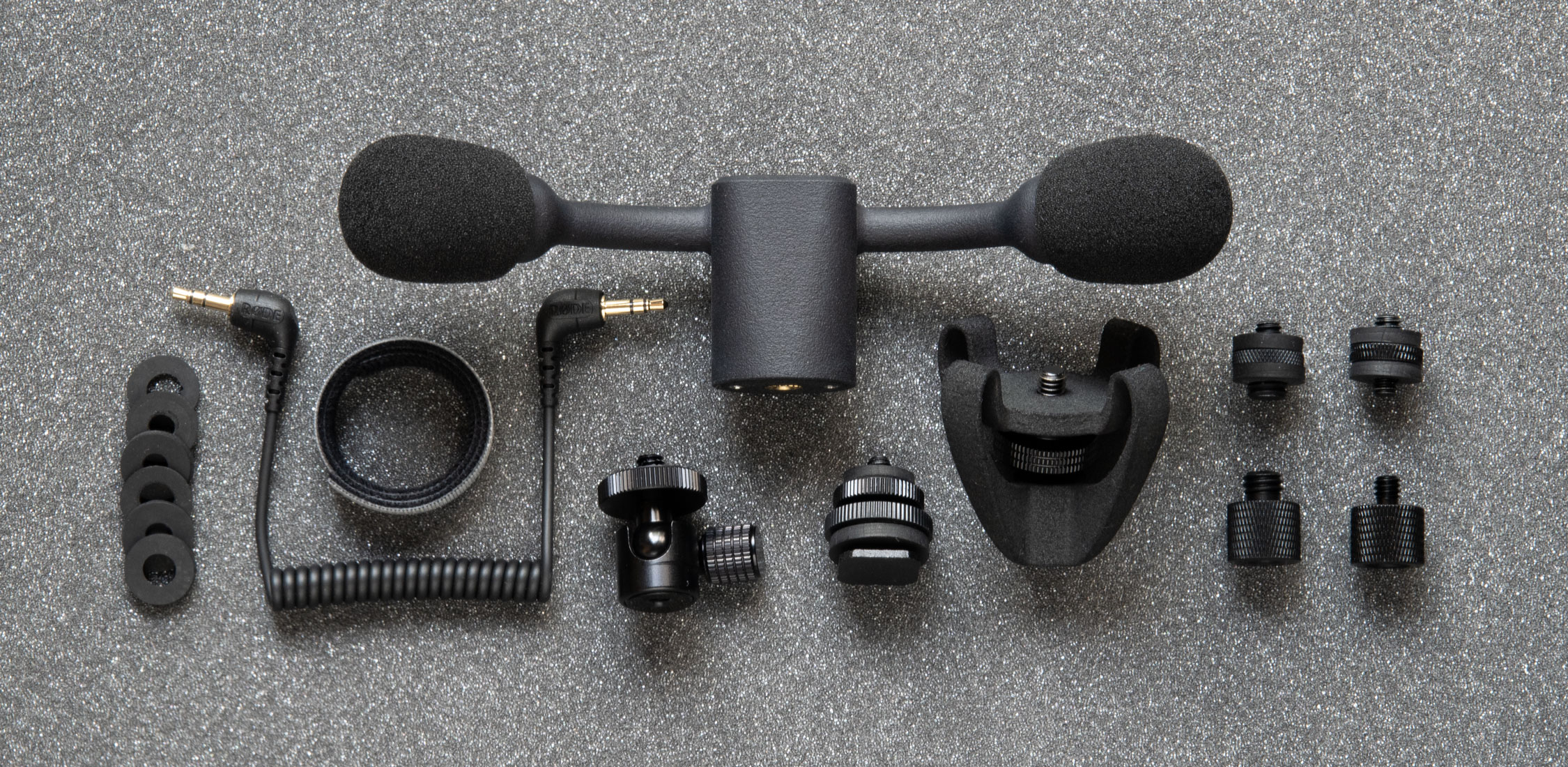 Pricing
The price for the whole set will be 299 € (19% German VAT included, without shipping). This may seem a lot, but all the single parts alone are about 180 € (VAT included) per set — without development expenses, tools and working time. Therefore I think this is a fair price. Production costs may decrease with larger numbers of units, but not by much.
If you purchase the set and don't like it, you can send it back to me within a month and you'll get full reimbursement. There are 2 years of warranty on the functionality of the mic.
The shock mount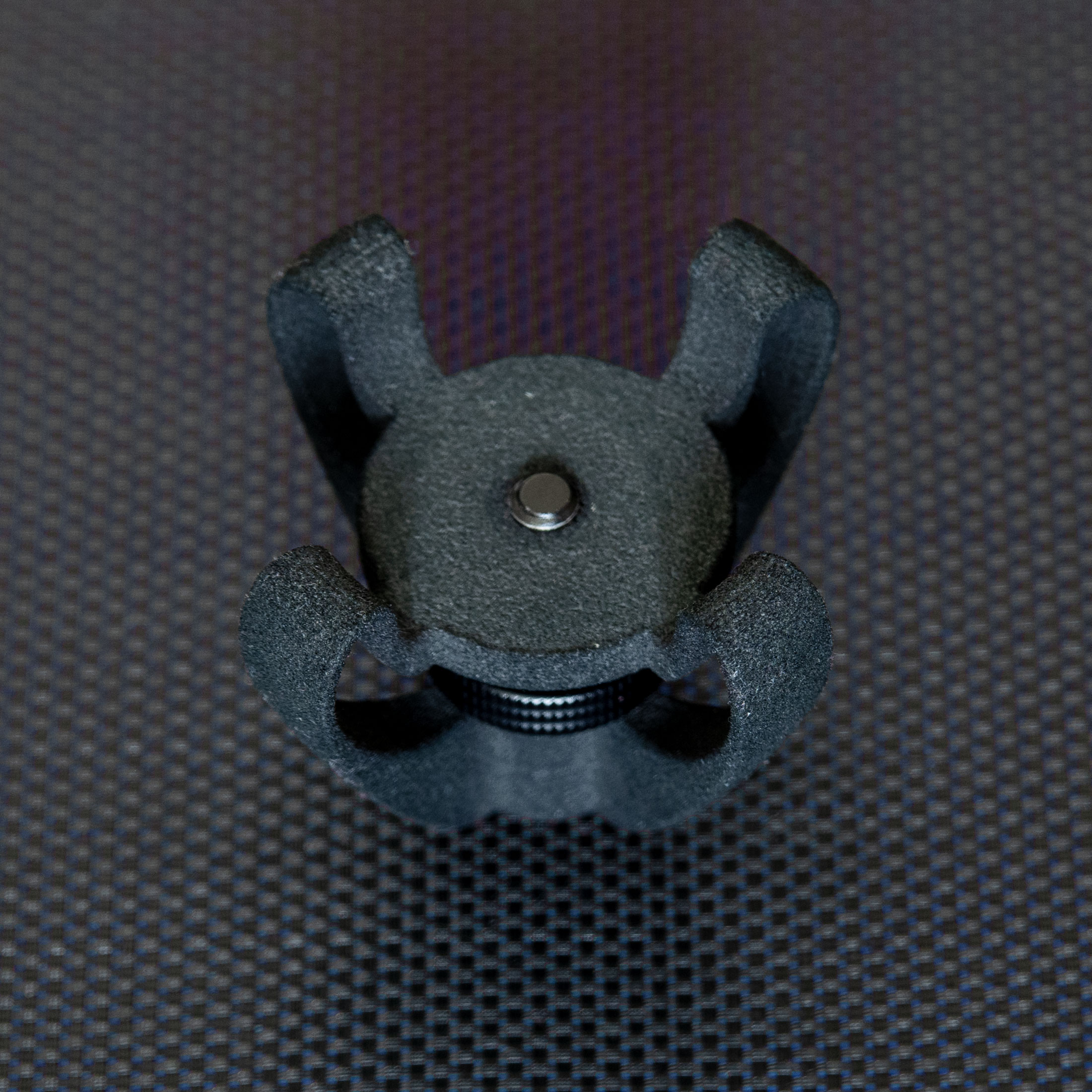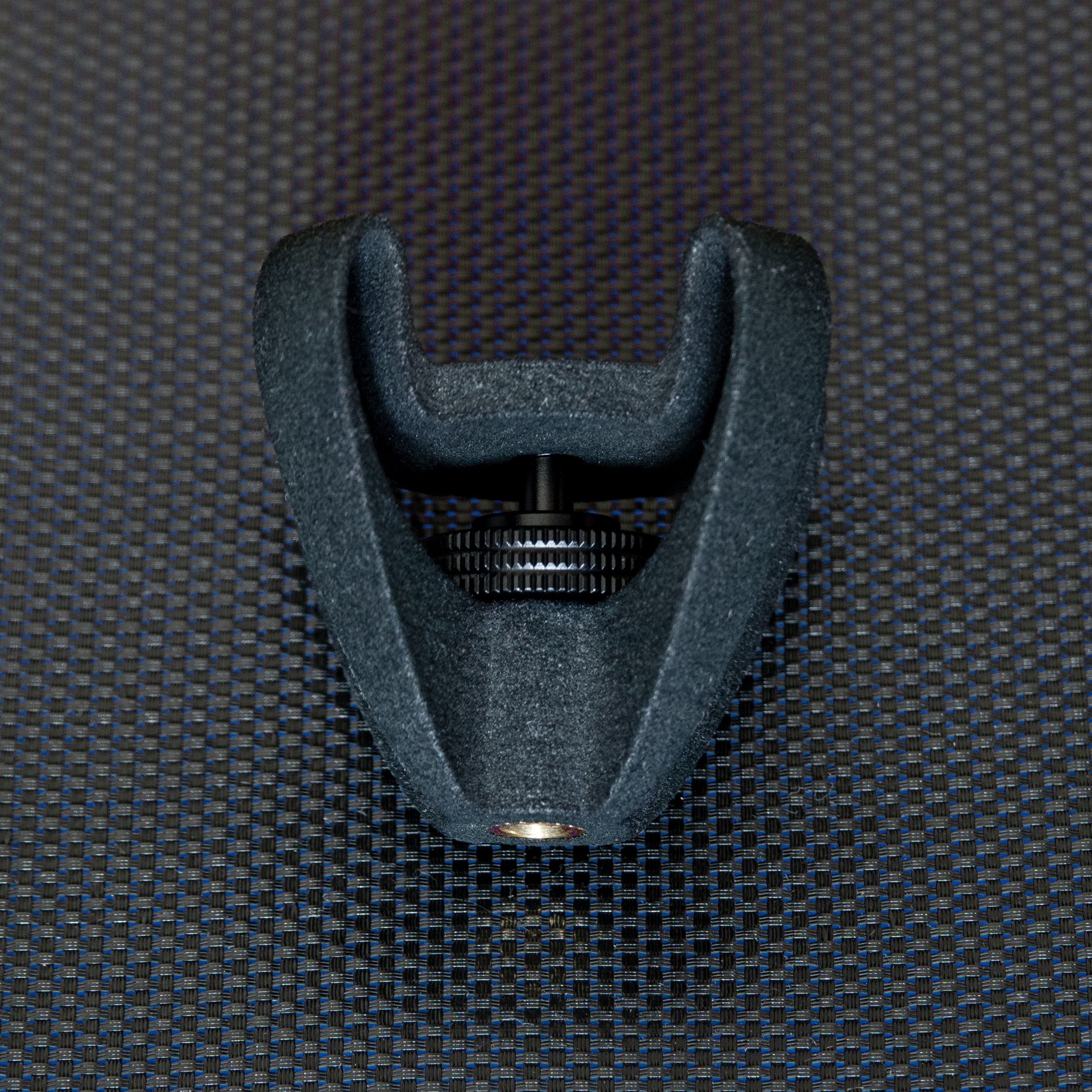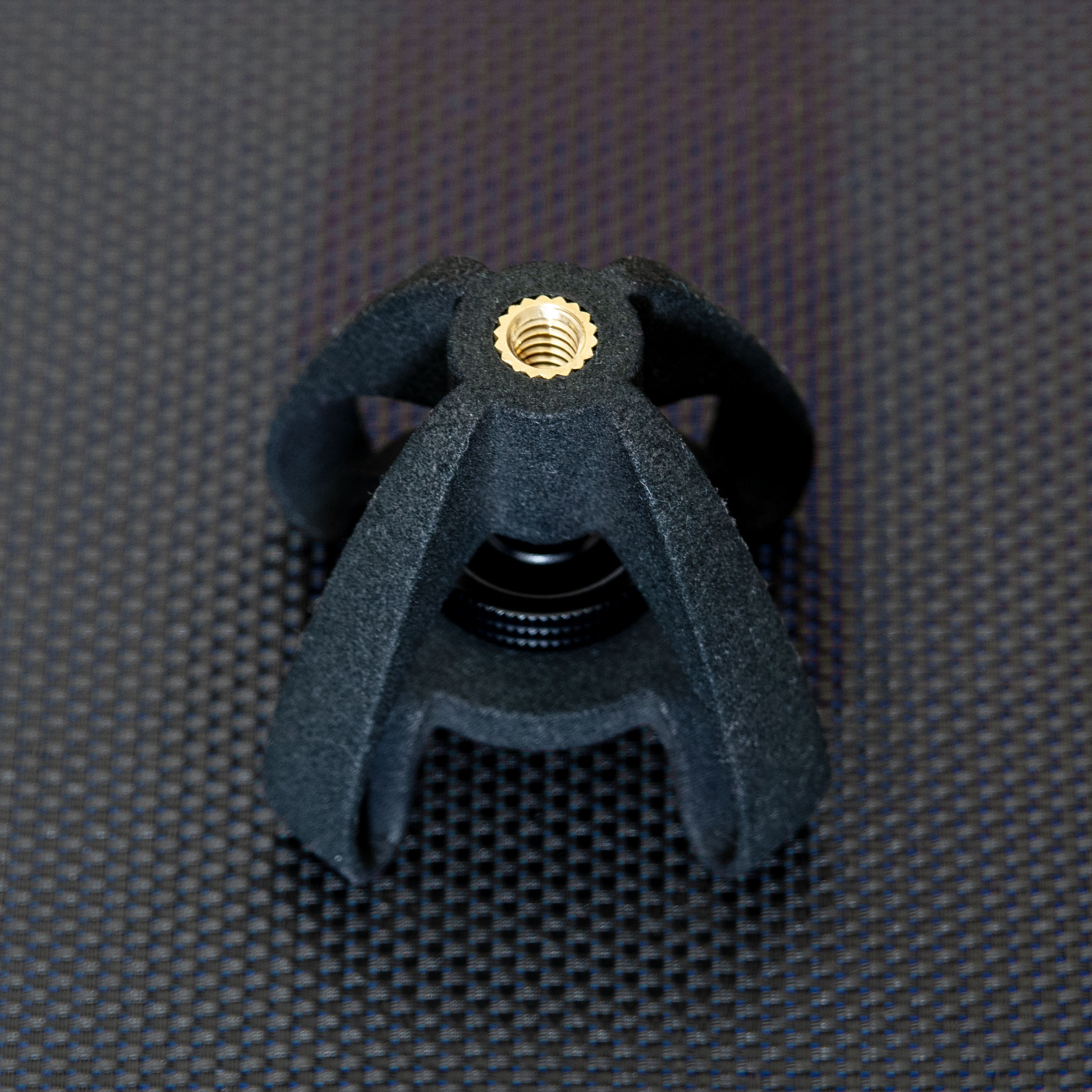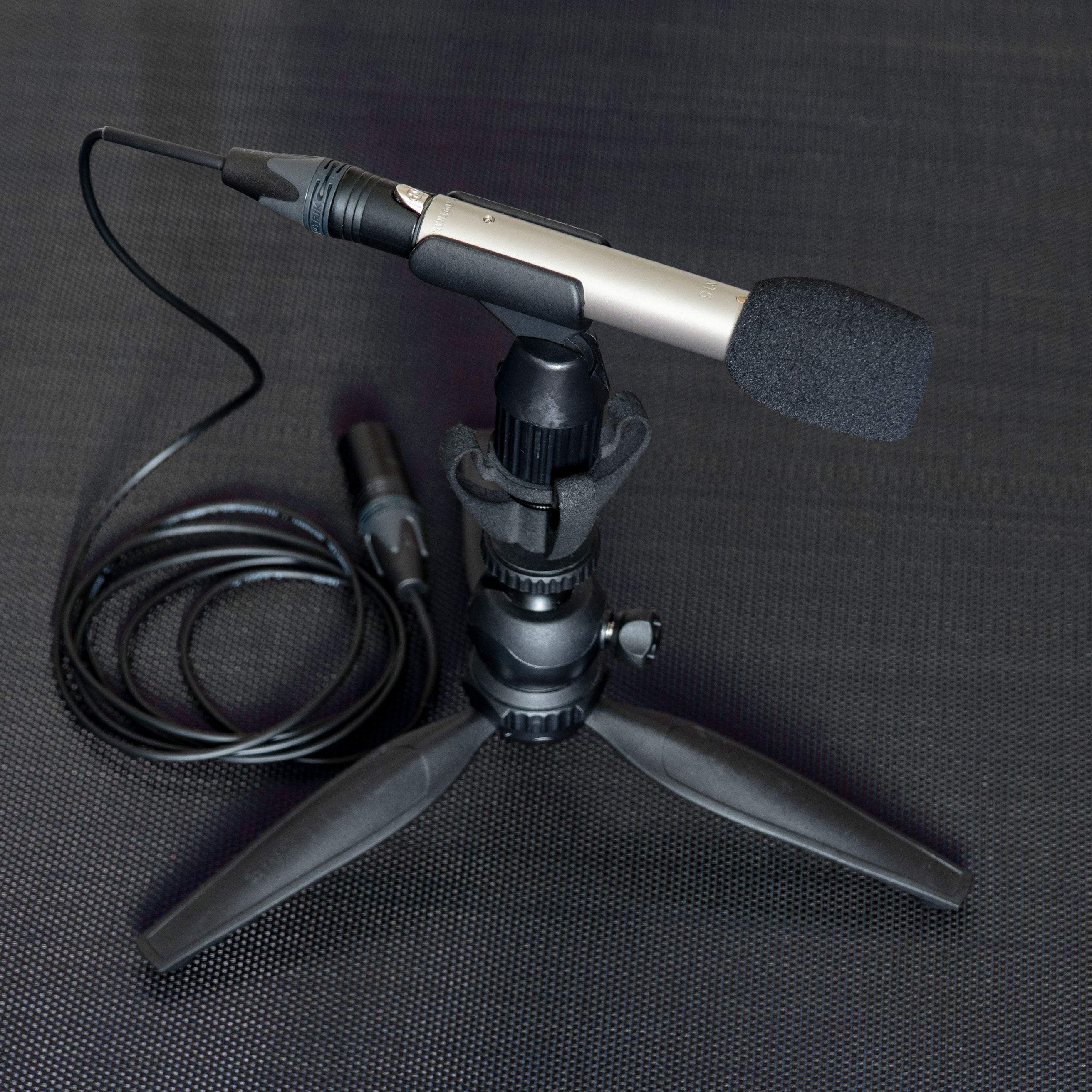 I'm thinking about offering a set with only the shock mount and some connectors for different mounting options. That might be useful to people who don't need the ORTF microphone. Please contact me if you are interested.
Custom made TRS cable
I prefer a non coiled, soft cable, because a coiled one can make a sound like the string of a bass guitar when under tension. I soldered a cable for my handheld rig with angled Neutrik jacks. For cable management I use a piece of Velcro®. You will find a piece in the standard set.
Why don't I include a perfect custom made non-coiled cable? I don't know your camera rig. You can order a custom cable, just you tell me how long you want it. The cable should be as short as possible but 2–3 cm longer than measured (a little extra space for cable management and bending the mic). Soldering TRS jacks takes some time and the two Neutrik jacks alone cost about 10 €, therefore the price will be higher than something you can buy at Amazon. The the cable length doesn't matter much in the calculation. You can order 3 meters for a long boom pole if you wish.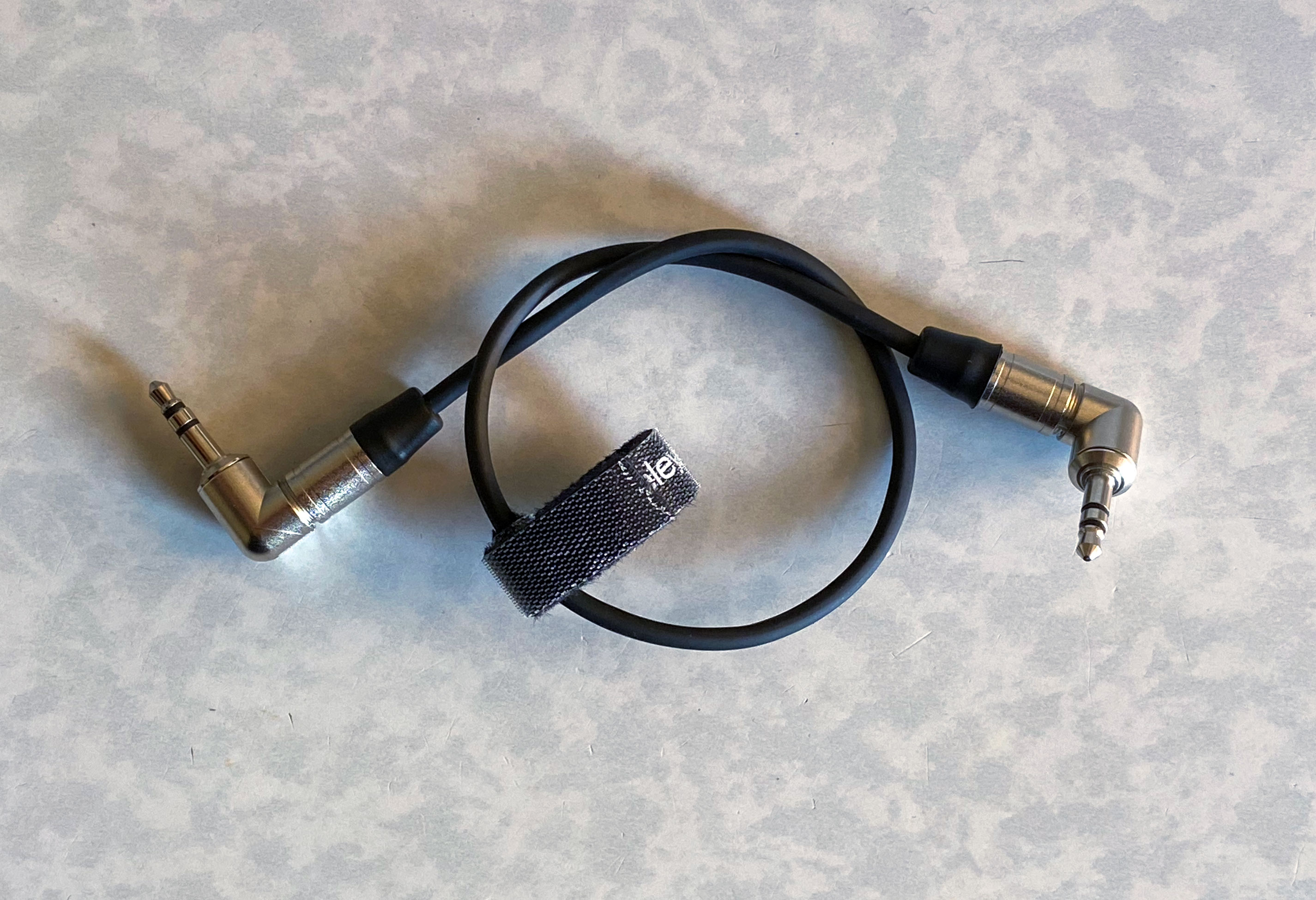 The history
In lockdown early 2021 I did some research on ambisonic microphones and in the end I wanted to have one for experiments. Ambisonic mics are quite expensive except for one in the market which didn't match my quality needs. As a media designer I have some 3D skills, so I decided to make my own.
At that time I already possessed some lavalier mics with very decent non-directional capsules made by Primo Microphones. So I checked if this company had cardioid capsules with good specs which they do. On eBay I purchased 6 EM204 capsules from a guy in NYC and integrated them into my 3D-printed housing. The ambisonic mic turned out nicely. My Zoom F6 provides good preamps and enough channels and after the lockdown I was happily field recording in Berlin and the woods around.
For the two spare EM204 capsules I made a 3D-model for an ORTF-mic to be used in field recording, too.
2 years later: Photography is part of my life and work since more than 30 years, but except of animation I had never been much envolved in video production. Since shooting in 4k became affordable, my interest was rising. My partner had bought a BMPCC 4k which I had access to and so I started learning.
January 2023 I shot a Lumix GH5 on eBay for only 500 € in mint condition and was impressed what I got for that money. Rigging the GH5 up for handheld shooting, I remembered my self-made ORTF mic. In my audio bag I luckily found an adapter to join the mono channels to TRS-stereo, attached it all to the camera cage and – wow, this sounded great – a detailed, wide soundfield, so close to how you really hear your environment.
Wind noise was still an issue, but I found out that Rode's dead cat for small condensers fitted perfectly (Rode WS8). I highly recommend you to order them if you want to shoot with the ORTF outdoors. This first ORTF prototype never left the camera until recently. I thought about optimizing options for the ORTF mic and the idea for the "aurochs" started to shape.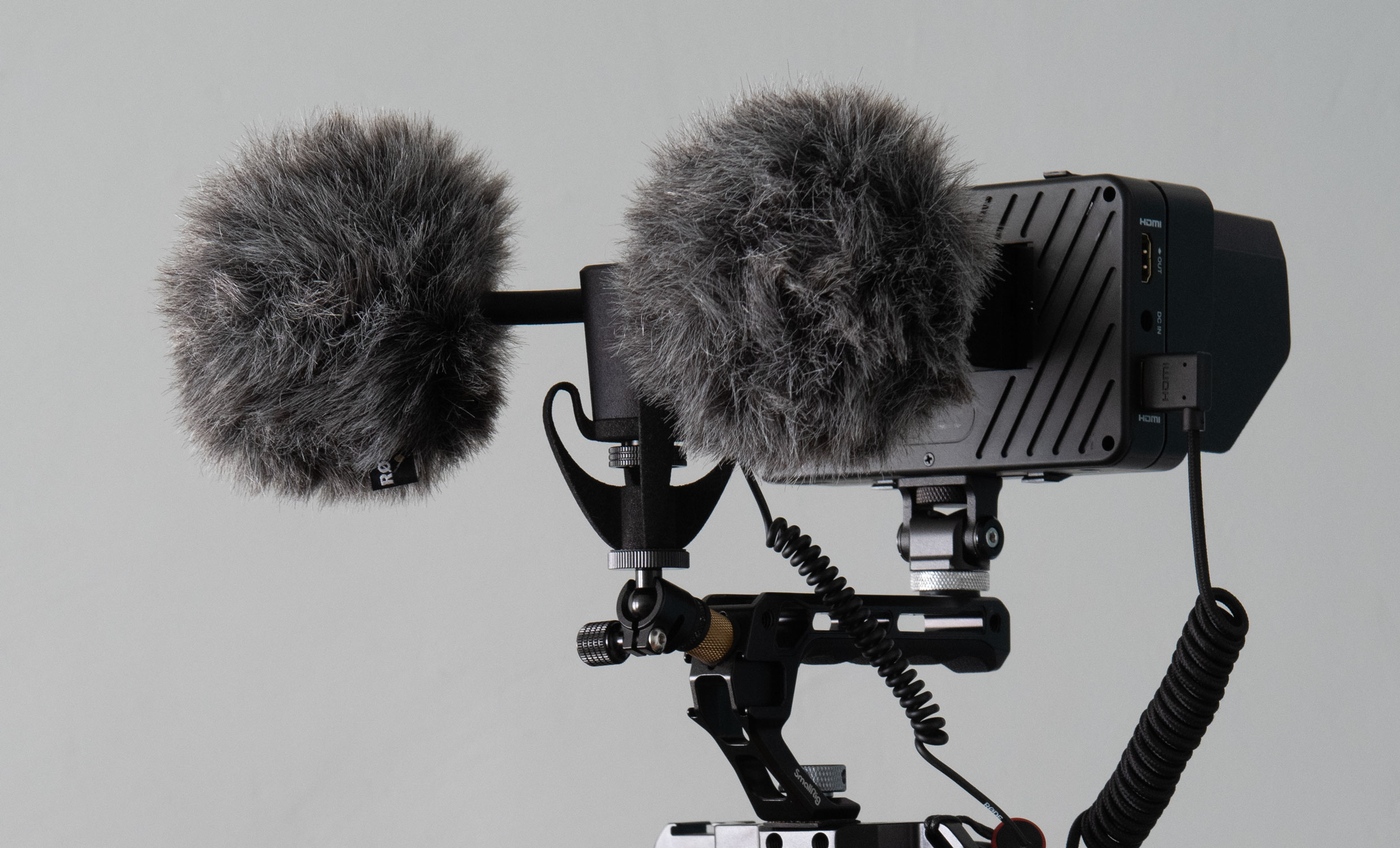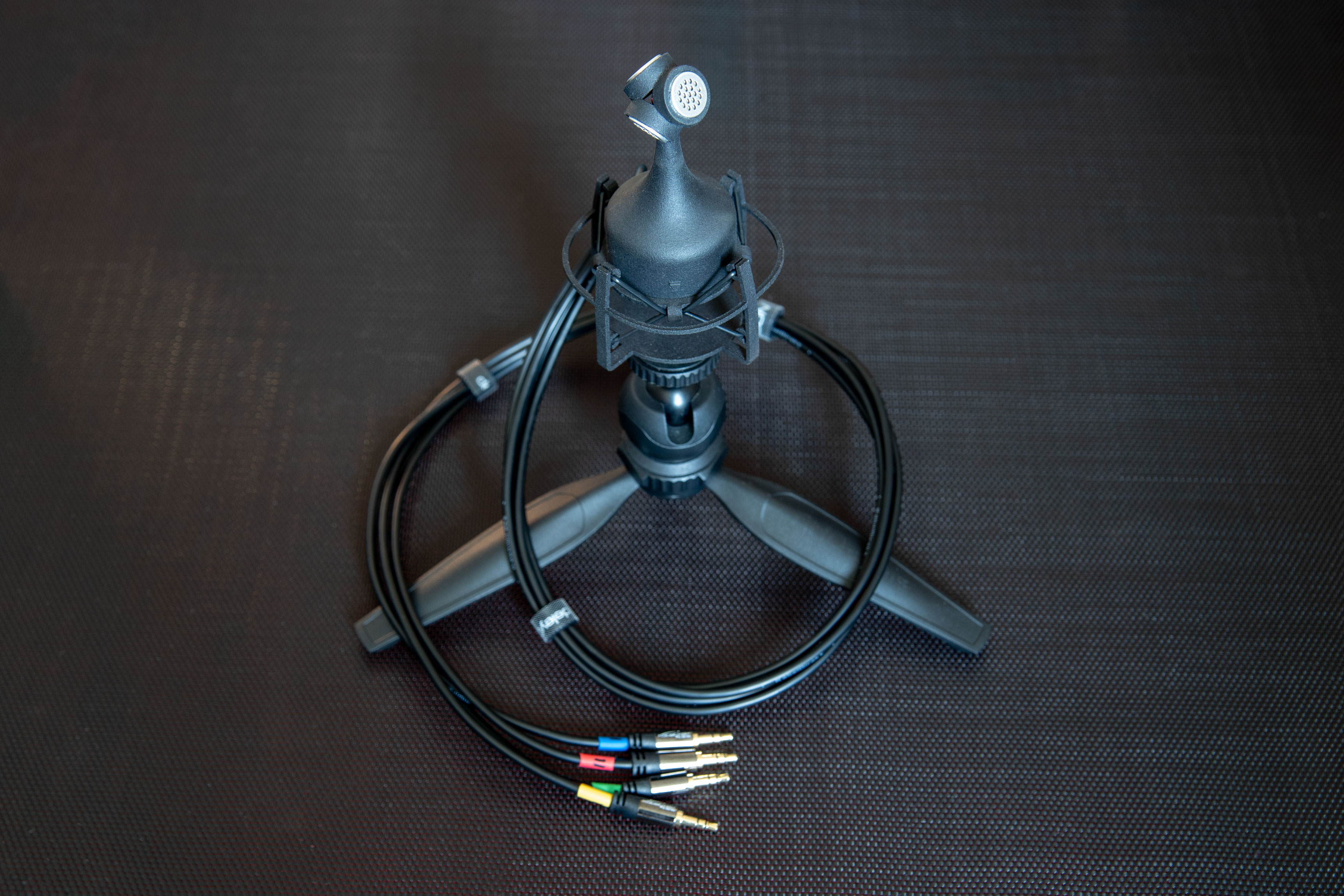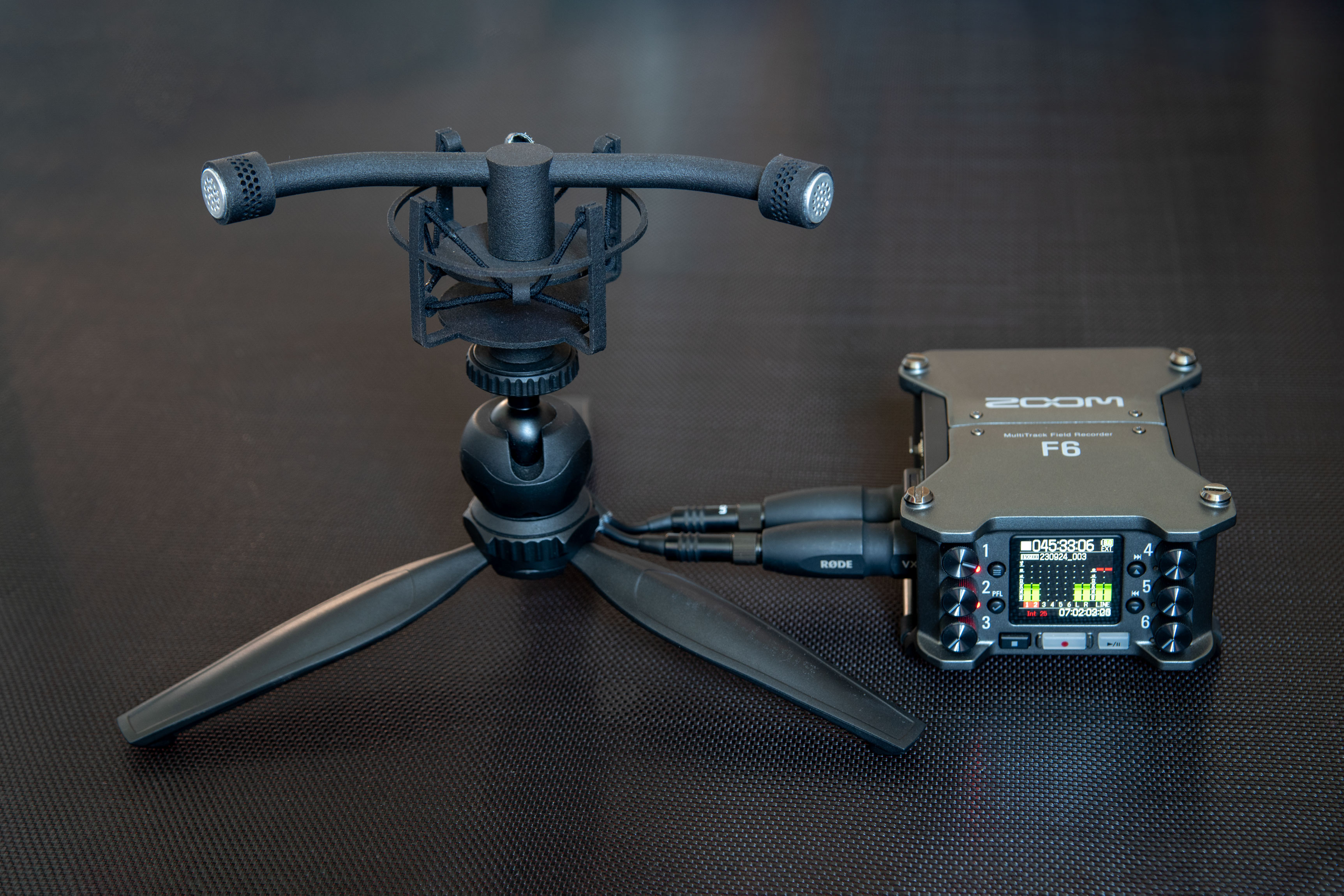 General thoughts on stereo audio for video
Maybe it is because I came to video a lot later than to recording audio. I seem to have a different approach to sound than most videographers. More than 90% of gear reviews by videographers for audio seem to rate mics on how well they exclude surrounding sound sources. My opinion: If you only use shotguns it is like having a 135 mm focal length as your go-to lens and try to do every shot with only that long lens.
While shotgun mics make sense for interview situations, in other situations for my perception something is missing. In most YouTube videos in those scenes you only hear music or voice-over, but why? This is not so much the case in a cinema movie, right? Ok, for obvious reasons you can't use on-camera mics for a drone shot. But for any wider shots indoor and outdoor, landscapes, forests, street scenes etc.?
My guess: There are 2 main reasons. First reason: Environment in industrialized countries is extremely noisy. Our brains are capable of filtering away most of it. But this internal neural filter seems to stop working as soon as you listen to a recording of what you had heard before in real life. A lot of loud and distracting noises arise from traffic and other sources which you can't control. In the recording you will hear it all. Second reason: Videographers don't have the equipment to record detailed ambient sounds in stereo. Well – now you can. Make the truth audible. Go new ways to shape your sound. Experiment.
In my perception it is a plus if you can adapt the width of sound recording to the focal length of the lens. You can create tension if you record something hidden left or right out of the field of view. There are lots of opportunities to play with.
The ORTF will stay firmly on my standard go-to rig. Before I buy a shotgun mic, I'll use one or more Zoom F2 recorders with decent lavalier microphones for interviews etc. and sync these additional tracks in post production. Then I have the option to dynamically change between focused (Lavalier) and wide (ORTF).